I was born in London in 1946 to Lorna and Ray, an engineer. They also gave me a younger brother, David and an even younger sister, Linda.  Life started to get serious when I attended Bishop Perrin Primary School and then Thames Valley Grammar School.
Somewhat unexpectedly! I married my wife Teda, a school friend, and became a father at the tender age of 16! Son Ian was followed, two years later, by our second son John-Paul. Teda and I are now proud grandparents and great grandparents.
After leaving school I trained as a quantity surveyor, working in private practice during the day and attending Hammersmith School of Art & Building in the evening. Life was not easy but it laid the foundations of my determination to succeed.
Although I trained as a quantity surveyor, I harboured a passion for architecture. I started small and through a process of self-tuition became a competent building designer, which ultimately led to bigger and better commissions.
At the age of 22 ambition got the better of me and I set up my first business as a building consultant, providing quantity surveying and architectural services to a variety of private and commercial clients. A subsequent partnership, with a close friend, led me into property valuation and estate agency.
By 1978, life in London was beginning to lose its appeal and my wife and I decided to sell up and move the family to Caithness, in the far north of Scotland, 720 miles away. We bought a remote house on the shores of the Pentland Firth and dreamed of living off land and sea.
When we woke up we realised we had to earn some money too! After a couple of jobs, one as a postman and the other as a quantity surveyor, at the Dounreay Nuclear Research Establishment, business number two was established, in 1984.
This was a real family affair. Elder son Ian had trained as a joiner and younger son John-Paul was keen to come on board. We started a small general building business which morphed into a joinery manufacturing company.
I had came across a franchise for an innovative way to manufacture timber windows, which we set up in a shed in Ian's garden. I travelled all over the Highlands & Islands of Scotland selling windows and doors, which Ian and John-Paul made, whilst Teda looked after the accounts and paperwork.
The business became Norscot Joinery (www.norscot.co.uk) which now employs about 50 people and enjoys sales approaching £4 million a year.
While all this was going on I converted outbuildings, attached to the house, into two self-catering holiday cottages and invested in a local hotel.
In 1999, I thought it timely, in the interests of succession planning, to take a back seat at Norscot and decided to strike out and build the 'empire'.
I started by buying a dilapidate former old folks residential home known as Naver House, in Thurso, and converting it into 12 flats and a business centre. I have since sold six of the flats. For further information on the facilities and services on offer at Naver Business Centre and my other property interests please go to: (www.naver.co.uk)
By the turn of the century my interest in the Internet was becoming all consuming and I established a small IT company which became Navertech (www.navertech.com) and now employs 7 people with a variety of skills providing digital marketing solutions (including website design) and IT support services.
With the advantage of these resources behind me I have been able to develop an online business offering digital information products and business opportunities. This is very much 'work in progress'. But, with the rest of my business interests being ably managed by others, it has become my life. Retirement is not an option, but it does allow me to do what I want, when I want, most of the time!
The journey has been difficult at times and I will be eternally thankful to my wife, our family, friends, employees and business associates, who have helped me/us along the way.
Post Script
Laugh [at yourself] and the world laughs with you. Hopefully, not at you!
Caricature by 'courtesy' of George Mackay. If you would like your own eejit just go to: www.eejits-online.co.uk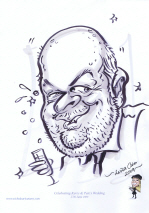 Another caricature, sketched at a wedding breakfast, in just 5 minutes.
A less kind image, perhaps, because I was giving the artist cheek!  But still very talented.
Her name is Luisa Calver and for more information go to: www.wickedcaricatures.com